The World's most Expensive Watches
1. Patek Phillipe - Platinum Made 1939
Watch collections is one the most expensive hobbies in the world, and one of the most Valuable Watch were sold at auction is a Patek Phillipe or famously known world time.
Patek Phillipe was sold last 2002 and for the price of $4,026,524 the watch is by Antiqourum in Geneva. Patek Philippe has platinum casing, 42 countries engraved and a leather strap.
2. Vacheron Constantin - 2005 Tour de l'Ile
Only seven were made. All limited edition. Vacheron Constantin worth $1.m. Vacheron is one of the most complicated Watch today.
Vacheron Constantin 2005 Tour de l'Ile - has sixteen different points including sunset time, minute repeater, second time zone, perpetual calendar and a Tourbillon device.
3. Chopard - Super ice cube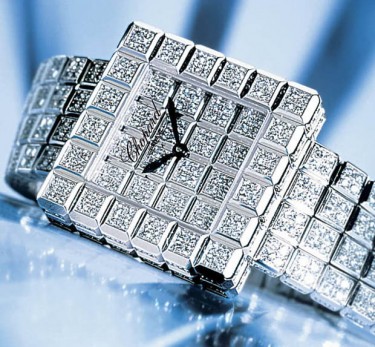 Cost approximately £639,320 with 66 carats of diamonds. Chopard watch has many diamonds compare to other watches in the world.
3. Hublot $1 million - Hublot Black Caviar Bang
Made from 18 karat white gold case packed with 322 diamonds, the crystal are AR coated Sapphire. The bezel, have an 18kt white gold and covered with 6 karat of179 black diamonds. This watch has 24 Jewel. The bracelet is made of high quality rubber with an 18kt white gold closure covered with 3.5 karats of 30 black diamonds.
4. Louis Moinet Magistralis
Watch with real piece of the Moon. Inside the Louis Moinet Magistralis rests a piece of a 2,000-year-old lunar meteorite or Moonstone is an extremely rare material that is even more expensive than gold and platinum combined. Price of Louis Moinet Magistralis is $868, 000 (681,000 EUR).
Blancpain 1735, Grande Complication

With Platinum case measures 42 mm. with strap made of Croco leather. Movement is automatic caliber 1735, with 950 rotor made of platinum and power reserve last for 50 hours. price $800,000